Traditional Thai Massage
Thanida has 20 year experience with Thai massages, she graduated at Wat Po temple in Bangkok and she worked in many european countries as well. Now you have unique opportunity to experience
massages as you would in Thailand.
Make an appointment
Place to relax
Get traditional thai massage & procedures experienced
luxury spa resort
Relax in the centre of Bratislava capitol! Book your massage today!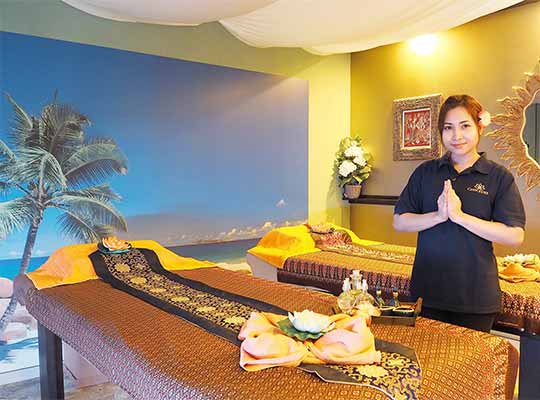 Chockdee - Thai massages & spa
Our salon is located in Bratislava, the capital of Slovakia.
We have more than 10 years of experience. We make every customer using our services contented and satisfied. Currently we provide comprehensive services of Thai massage, spa, face massage, body scrub, Ayurveda massage and therapeutic massage are characteristic of ours. We are experts in the art massage. We claim that we take care of you from head to toe. Because we care for our customers, we provide more than 20 types of services for those who want to relax and rejuvenate.
We got our certificates from Wat Po temple in Bangkok.
find us on map
Discover

variety of massages & spa
| Massage procedures | 30m | 60m | 90m | 120m |
| --- | --- | --- | --- | --- |
| Traditional thai massage | €25 | €39 | €59 | €79 |
| Thai oil massage | €25 | €45 | €69 | €85 |
| Back & Shoulder massage | €25 | €39 | €59 | €79 |
| Back & Shoulder special massage | €25 | €39 | €59 | €79 |
| Foot acupressure massage | €25 | €39 | - | - |
| Hot oil massage | €30 | €48 | €75 | €89 |
| Hot oil & Indian massage | - | €48 | €75 | €89 |
| Hot oil & herbal compress | - | €50 | €80 | €90 |
| Thai hawaii massage | €35 | €65 | €85 | €95 |
| Traditional thai oil four hand massage | €49 | €79 | €119 | €149 |
| Spa treatments | 30m | 60m | 90m | 120m |
| --- | --- | --- | --- | --- |
| Aromatherapy oil massage | €29 | €49 | €79 | €89 |
| Aromatherapy four hand oil massage | €49 | €79 | €119 | €149 |
| Body scrub | €30 | - | - | - |
| Body scrub & aromatherapy | - | - | €79 | €89 |
| Floral Bath & Body Scrub | - | - | €85 | €99 |
make An Appoinment